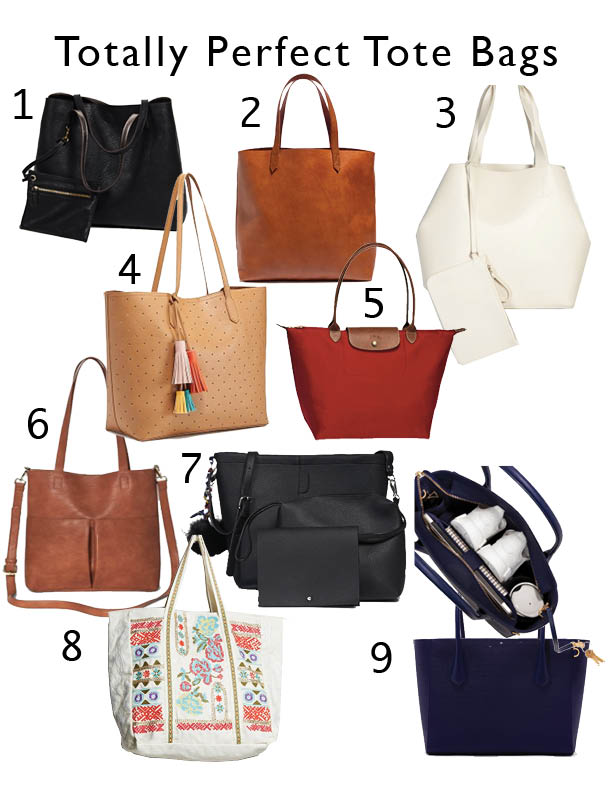 Hi, my loves!! If you know me, and have known me for a while, then you know my obsession with purses. Personally, I don't think that you can ever have too many purses and shoes! I'm also the girl who carries a tote every single day, every where she goes. I mean, you never know when you just might need one of the million things inside my purse! I know, you're probably all wondering what in the world I carry in such a big bag – don't worry, there is a 'what's in my purse' post coming soon! Before I got my LV Neverfull tote, I was always carrying bags that I found at Target or T.J. Maxx. I'm not complaining either, because one of the best parts about buying inexpensive bags is the fact that when you're ready to move on to something new, you can donate it without feeling like you wasted your money!
All of these bags are great because you can carry them as an everyday purse, a work tote or a weekender bag. Each of these totes is so versatile and can pair with just about any outfit. Whether you're heading into the office, running errands in your gym clothes or heading to the city for a day of fun, a tote is something that can just make your life easier. I love carrying big bags and swapping out what I carry inside. For instance, if I'm going to work I've got my laptop, my planner and a notebook; but if I'm going out for the day I'll throw in an umbrella, my best water bottle and a sweater. I feel like people often get intimidated by carrying a tote because they feel like they have to fill it up, but you don't! I love a good, staple, tote bag and I figured that these listed below are great, affordable options. Comment down below with your favorite tote bag; I'd love to check it out!
I hope you enjoyed my roundup of the best affordable tote bags to get you through your work days and into the weekend! I'm a sucker for a good bag that has a multitude of purposes. I'd love to know which one you liked best and want to buy, or your tried-and-true tote that you can't live without!
With love and hopes of inspiration,
Carly