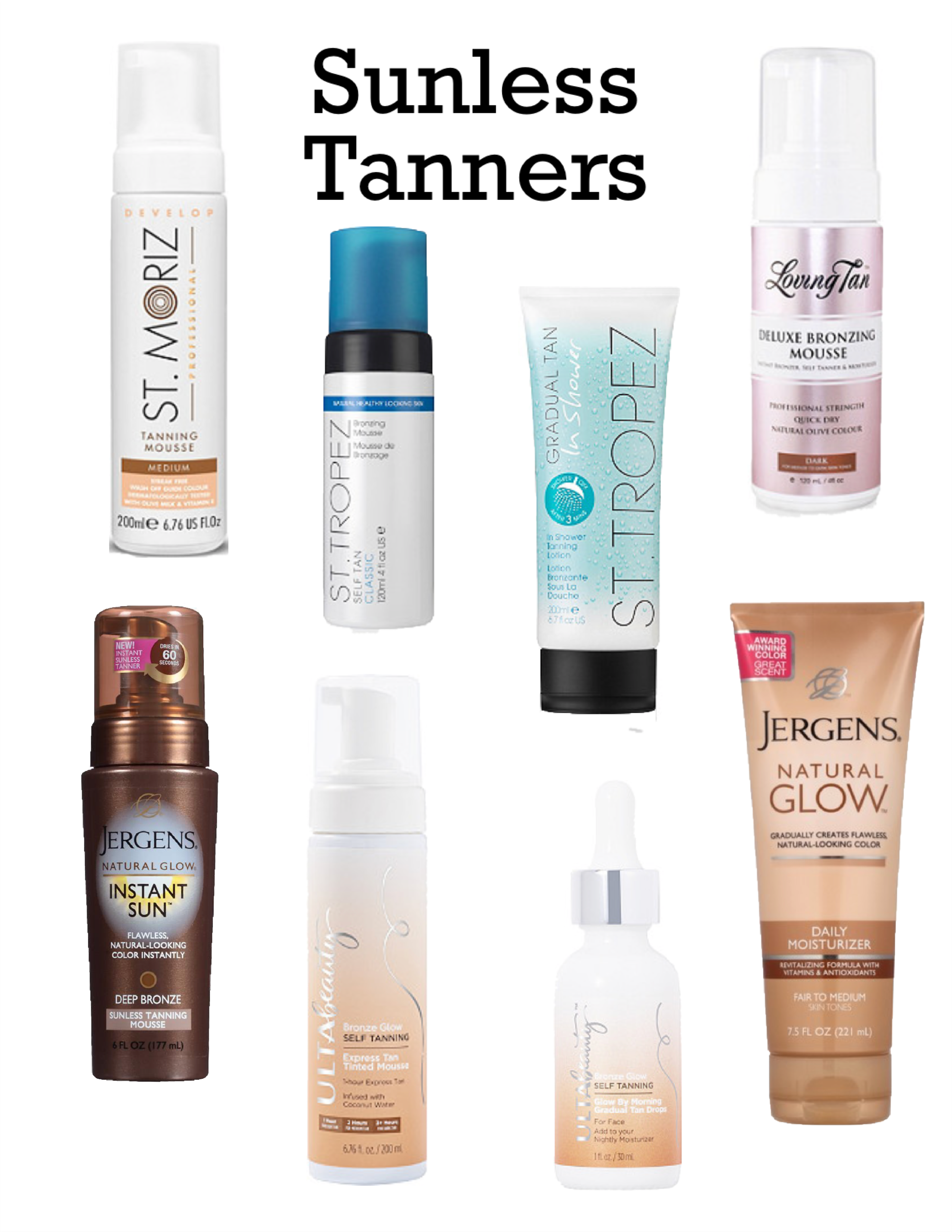 SHOP THE POST


Let's talk self tanners! Personally, I don't like laying out that much. I hate being hot and sweaty; I hate how long it takes for me personally to see results other than a burn; and I just don't have that much time to devote to it. I am also 100% against going to the tanning bed knowing my family history with skin cancer; and I don't really feel like going and getting $30+ spray tans while I stand naked in front of a stranger every other week. So, I fake and bake straight from a bottle in the comfort of my own bathroom! Lately I've been testing out some different sunless tanners, and while I haven't tried them all (there are def some more on my list to try), I think I may have met my match. Throughout this post please keep in mind that everyone's skin is different – it will go on differently, last differently, fade differently and look differently on everyone! I, personally, am v pale with neutral/olive undertones. I don't tan naturally that easy; it literally takes forever and usually ends up with a bad burn. I can't wear tanning oils in the sun without being rubbed down with a high SPF prior to or I will literally crisp up, and not in a good way. Personally, I like for a darker self tanner. Since they do fade and wear off in different patterns, I like to start really dark so that as it naturally fades, it will still look good and last me longer. I can't tell if that's a smart, innovative thing on my part or just pure laziness – probably the latter. For this post, I will give you babes my tips and tricks that work best for me when self tanning, a brief description/testimonial to each product shown above and then rank them according to what they're good for in my opinion! So, let's jump right in!
TIPS & TRICKS
– Shower before you self tan and make sure you thoroughly exfoliate and shave! If you don't want the tanner to seep into your pores after tanning then wait a few hours in between, like shower, shave and exfoliate in the morning and then put the tanner on that evening!
– Moisturize! Definitely don't forget your hands, feet, elbows and knees, but I just go ahead and apply a thin, even layer of Aveeno body lotion all over for a primer almost. Let it dry for a bit before tanning!
– When it comes to applying your tanner yourself, you're going to want a loofa or something on a stick that you can slide your mitt over to get your back!
– My latest trick: applying my self tanner mousse with a damp body sponge from Sonia Kashuk or Beauty Blender while wearing rubber gloves. I tried doing this with no gloves and got it everywhere; then I tried it while I had my mitt on and it was just too much! This way you can get a smoother, more even tan by having full range of flexibility with your fingers in the rubber gloves, but it doesn't get on your hands.
– After you've applied the tanner all over your body, take off the gloves and use an old foundation brush and apply the tanner to your hands and feet. This will get an even tan without missing the small spots; don't forget to buff it out!
– Do not get dressed for as long as you possibly can! If you're going to bed, wait it out for a while and then throw on dark clothes. If you're going out after this, then do you hair and makeup before getting dressed!
– Most people recommend tanning at night and washing off in the morning. Well, I take it a step further and wait at least 24 hours before showering. If I'm staying at home and doing nothing, I'll wait even longer because then when I do go to shower, the tan has pretty much seeped so far into my skin that nothing is coming off!
THE TANNERS
– St. Moriz: I discovered this mousse over a year ago on Amazon and fell in love. It's said to be the dupe for St. Tropez! It's super affordable and works great. They have several different versions but I've only tried their regular tanner in shade 'medium'. The tan wears off pretty evenly with few spotty areas, and lasts for about 5-7 days, from my experience.
– St. Tropez Classic Tanning Mousse: I finally caved and purchased this self tanner and I have to say, it definitely lives up to the hype. I went with one of their sets that contained a mitt, the mousse, a body lotion and body glow – all travel size. If you're wanting to try out this tanner but you're hesitant on the price, grab one of these sets with the travel size products so that you don't commit to anything! This tan lasts longer than any other that I've tried and wears off flawlessly!
– St. Tropez In-Shower Lotion: I purchased this on a whim while it was on sale before trying the regular St. Tropez tanner hoping that it would take place of the more expensive mousse, but it didn't. If you have the time and patience, this is a great product, but it also just gives you a gradual tan over time as you use it. For me, when I'm showering I'm most likely in a hurry, so doing my whole shower routine and then turning the water off to apply this product while wet and then getting out of the shower and standing there naked, wet and with tanning lotion on for 3+ minutes before getting back in to wash it off is just not feasible. I loved the subtle glow that it did give when I did, but I just don't have the time for it and I'd rather have a darker tan.
– Loving Tan 2-Hour Express: This was my most recent tanner that I tried and I fell in love! I went with the 2-hour express dark tan but I kept it on for almost 24 hours (lol oops!). It was so dark right off the bat and perfect for me! It has worn off a tad bit spotty in some areas (my feet, but I wore sneakers later that day and it was v hot), but it lasted a while and was great coloring for my skin. They have a normal tanning mousse that isn't the express version, but I haven't tried that one yet. Like I said, I like mine to be very dark initially, so I always go with the dark shades!
– Jergens Instant Sun: This used to be a tanner that I would use often before I tried other more expensive ones. This mousse will give you some color if you need it for an event, but it's not the darkest and doesn't last the longest. It's great for when you're in a pinch or don't want to fork out the money, but I wouldn't use this as my main self tanner.
– Ulta Express Tan Tinted Mousse: This tanner is a gem. I had no idea that Ulta had their own and it was this good. First off, if you loathe the smell of self tanner, this is the one you want to go with. It smells like coconuts; it's seriously so yummy. Not only is the mousse itself not that dark (so it doesn't stain your palms as bad), its doesn't go on and leave a 'dirty' film. This tan isn't the darkest, but gives that perfect shade for someone who has lighter skin like myself. It also fades the best out of all of my tanners!
– Ulta Self Tanning Drops: I've never tried self tanner drops for my face before but I'm digging them. I've been trying to remember to use them regularly at night and in the morning mixed with my moisturizer. It's slow, but I'm starting to see some progress with it!
– Jergens Natural Glow Daily Moisturizer: I have been using this product for a few years on and off, but not as much as of late. If you use it consistently, you will see some natural, gradual results but it does take a while. Not the most ideal situation, but it works over time!
Best Overall Tanner: St. Tropez Classic Tanning Mousse
Best Affordable Tanner: St. Moriz Tanning Mousse
Most Pigmented Tanner: Loving Tan 2-Hour Express Tanner
Best Smelling Tanner: Ulta Express Tan Tinted Mousse
Best Fading Tanner: St. Tropez Classic Tanning Mousse
Best Gradual Self Tanner: St. Tropez In-Shower Tanner Lotion
Best Tanner In A Pinch: Jergens Instant Sun
My Top Tanner: St. Tropez Classic Tanning Mousse