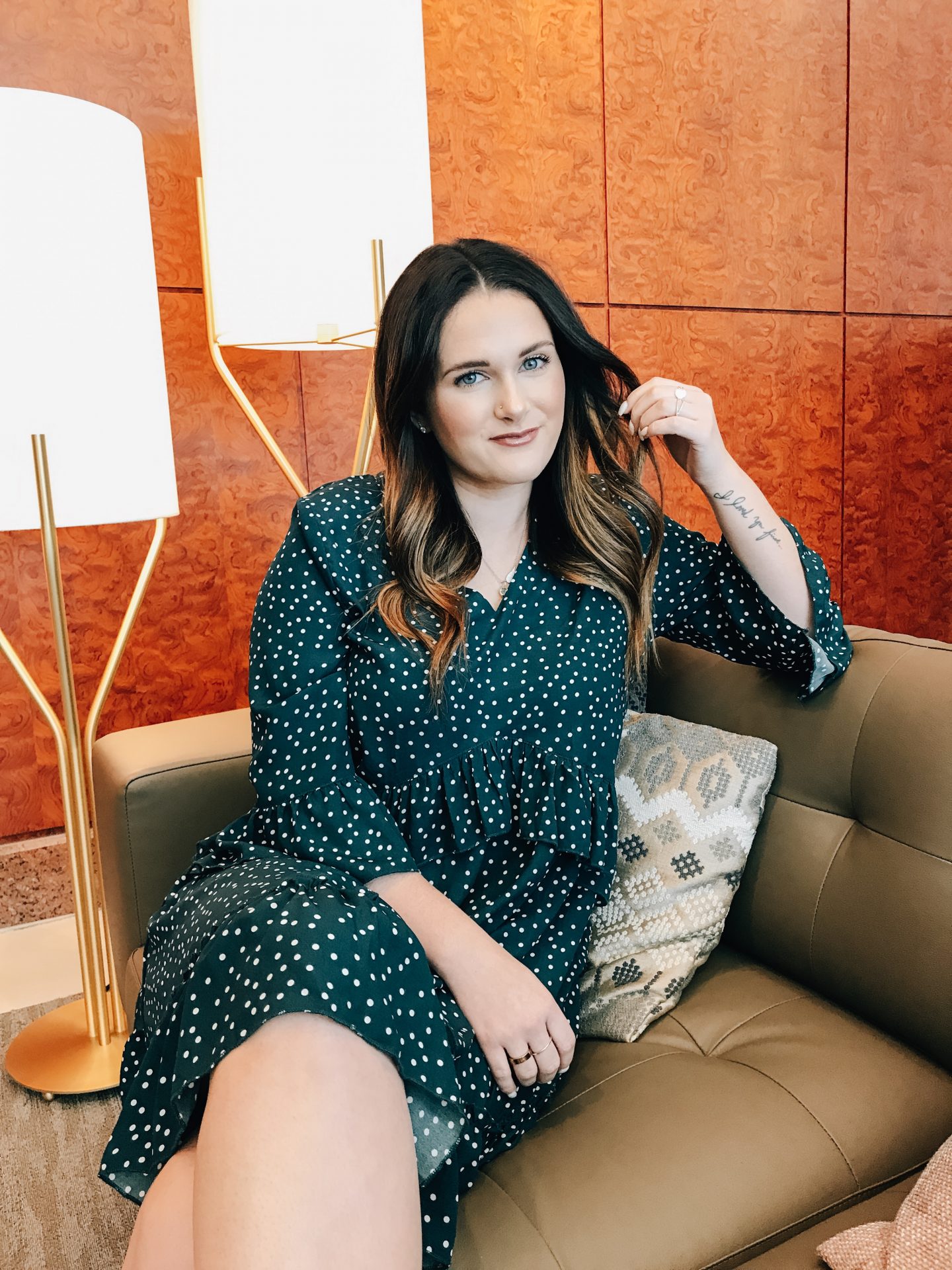 I tend to get a lot of questions about my hair, tools that I use and my haircare routine, so today I'm going to share my top haircare products! I have naturally curly, frizzy, coarse hair, so I tend to use a lot of products to manage my hair and get the look that I want. I will be sharing my haircare routine, favorite tools and how I style my hair later on the blog!
My Top 8 Hair Styling Products
– Detangler
– Styling Cream
– Blow-dry/Heat Protectant Spray
– Hair Oil
– Dry Shampoo
– Texturizing Spray
– Finishing Spray
DETANGLER


This is such an important step for me! With longer, curly, frizzy hair, it's pertinent that I use a detangler. After I towel dry my hair, I spray in some detangler before adding anymore products. I've been using detangler for years, and it's a serious game changer! I can't stand running a brush through my hair and feeling like I'm pulling all of my hair out!
STYLING CREAM


This was a product that I added to my routine in the last year and I've been loving it! The particular one that I can't live without is Redken's Pillow Proof. I swear that it has actually cut my hair drying time in half. There's so many types of styling creams and you should do some research on which types work best for your hair. For example, if you have curly hair like myself, using a curl cream is suggested because even if you're not wearing your hair natural, it helps to keep your hair nourished.
BLOW-DRY/HEAT PROTECTANT SPRAY


If you're using heat on your hair, you should be using a heat protectant!I never realized how much heat I was using and the real damage that it was actually causing. There are now a few sprays that are 2-in-1 with a blow dry and heat protectant spray. Because I'm crazy, I use a blow dry and a heat protectant!
HAIR OIL


Just like with facial oil, I though that by using a hair oil I was going to make my hair greasy. And it definitely can if you're not careful, but playing around with it can also change your hair! I used to mix some into my conditioner in the shower, but now I just use a small amount on wet hair before I blow dry. I sometimes also take a little bit on my finger tips and run it through my ends after I've styled my hair.
DRY SHAMPOO


My saving grace — dry shampoo! I couldn't live without this product. It comes in handy more often than not because I try to not wash my hair but once, maybe twice, a week. This one doesn't need much explanation, so I'm going to keep it short and sweet!
TEXTURIZING SPRAY


This was a product that I thought didn't really do much and was more of a gimmick to spend more money. Well, I was very much wrong because I've been trying a few over the past year and I love what they do for my hair! After I get done styling my hair, I lift sections of my hair and spray some texturizing spray. It definitely gives your hair that tousled, effortless look!
FINISHING SPRAY


To finish off the look, I spray down my locks with a good finishing spray. Depending on how much of a hold I want, depends on the spray. If it's second day hair and I'm not recurring, I'll add some shine spray and call it a day. If I'm going for a fresh look that needs to last all night, I add some firm hold hairspray. If it's humid or rainy outside, I never leave the house without some frizz spray!
What are your top hair styling products? Leave them in the comments below!